Medellín, Colombia is quickly becoming one of the top cities for digital nomads. Once the hub of drug cartel violence and the home to Pablo Escobar, today it's a bustling metropolis with cafe-lined streets and a modern transportation system. It's no wonder Medellín is such a popular destination: the WiFi is extremely reliable, the cost of living is low, and the lifestyle is carefree. Rising to meet this newfound community of remote workers, expats, and digital nomads are the numerous cafes around the city. Whether you just want to enjoy your morning coffee and get some work done or prefer a more social space to meet other digital nomads, there's a cafe in Medellín that's bound to provide the ideal environment.
Café Velvet – Via Primavera, El Poblado
There is something about the long, thin space that ends in a bright wall of cascading greenery that will give you all the best workspace vibes. Whether you want to sit down and power through some work or need a place to meet with a client, Café Velvet is the place to be. This modern cafe has both indoor and outdoor seating options.
The WiFi at Café Velvet is very reliable and fast, the natural lighting (best on sunny days) is perfect for work, and the atmosphere is ideal for both meetings and calls. The only downside is that power plugs are limited.
Café Velvet has some of the best coffee in Medellín, and a good selection of food that includes pastries, soups, salads, and empanadas. There's also a daily special menu.
Botánika Lounge doesn't scream "cafe" at first glance, but it ticks all the boxes of a sit-down-and-stay-a-while workspace. Botánika Lounge is one part cafe, one part tropical oasis, and one part cocktail bar. Most of the seating is outdoors and surrounded by greenery.
The staff is friendly, the food is phenomenal, and the tropical house playlist on loop is sure to provide an upbeat atmosphere. All of these things combined make Botánika Lounge a great place to work. The atmosphere is not the best for meetings as the music might be a bit loud for calls. The WiFi is fast, and there are power plugs everywhere.
This cafe might be small, but it packs a lot of punch when it comes to cuteness and comfort. From the lounge outside to the comfy velvet-covered bench inside, it is easy to settle in here for a productive workday.
Hija Mia has great coffee but a limited food menu that consists mostly of pastries. The WiFi is reliable, and there are plenty of power plugs. It's a very popular cafe with the digital nomad community making it a great place to socialize.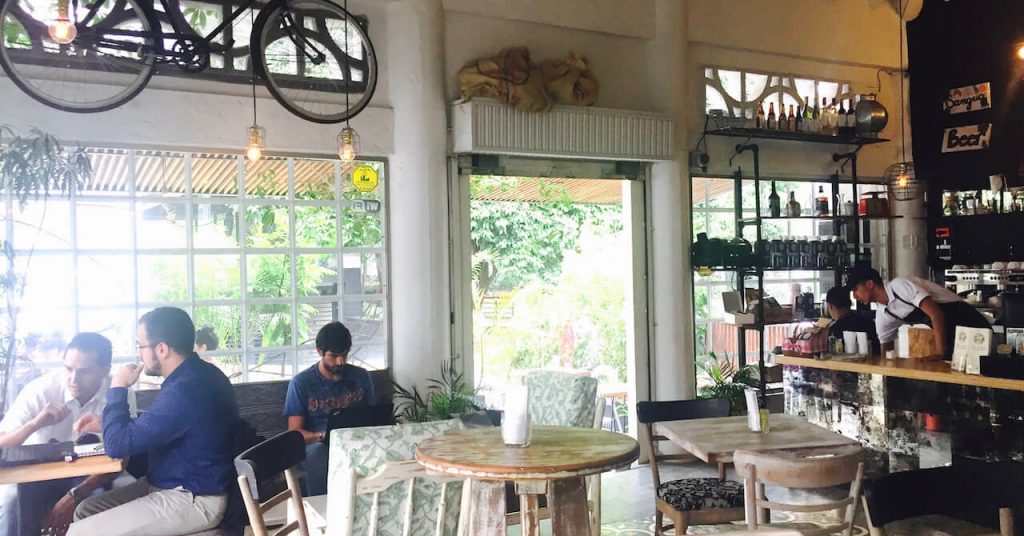 Tomasa y Al Alma has three branches throughout El Poblado, each one cuter than the next, and well equipped for getting some work done. All three locations have excellent WiFi, plenty of power plugs, and ample natural lighting that makes hours of work easy on the eyes.
Tomasa y Al Alama also has a great food selection. The menu has great options for breakfast and lunch, and the freshly-roasted-in-house coffee is delicious.
Pergamino – Via Primavera, El Poblado
Pergamino is the one cafe that shows up on all the "best cafes in Medellín" lists, and for a good reason—it has some of the best coffee in Medellín. This cafe also boasts an amazing patio, perfect for getting that outdoor feel while still being productive.
The WiFi is excellent, but power plugs are very limited, so it's best to come with a full charge. The atmosphere is perfect for meetings or calls, but it does get busy, so it's best to get there early.
Pergamino is more about coffee than food, but there is a limited selection of breakfast items, pastries, and empanadas. While you're here, treat yourself to one of their frappes (aka coffee heaven) served up in a mason jar.
Algarabía is in Laureles, another area that is frequented by digital nomads. Similar to El Poblado, Laureles has several cafes that double as workspaces. Algarabía, which stands for "gibberish or babble," is just that, a perfect mix of all things. From the colorful bricks out front to the mesmerizing graphic pastel wall to the little sunny nook in the back, this cafe has something for everyone.
The cafe is less busy than those in El Poblado, which makes it perfect for calls. The WiFi is fast, and there are plenty of power plugs.
You'd be hard-pressed to find a bad cup of coffee in these cafes, and Algarabía was no exception. The coffee here is fantastic, and they offer a limited menu of pastries and sweets.